Organic Philosophy
Org de Rac's Philosophy
Organic: It's Only Natural
Org de Rac was one of the first wine farms in South Africa committed to 100% certified organic wine-farming. Today it is one of only 18 local wine producers certified for the making of wines from organically farmed grapes.
From the outset, Org de Rac's motive for organic farming was our conviction that the best, healthiest grapes make the finest wines. And if you want healthy grapes expressing the characteristics of each variety, creating as natural an environment as possible for the cultivation of vineyards is the best way to ensure quality grapes for the making of premium wines.
Organic farming entails natural agricultural practices, the same as those used by farmers centuries and generations back before the landscape was changed by the introduction of chemical fertilizers and poisonous pesticides. Org de Rac thus does not – and has never – subjected its soils and vineyards to artificial fertilizers and pesticides composed in a laboratory.
Natural compost and sea-bird manure, as well as crop-covers, fertilize our soils, creating a natural environment for vineyards to flourish, ensuring optimum health of roots, scions, shoots, leaves and grapes. To keep harmful bugs and disease-carrying pests at bay, natural predators such as wasps are released into the vineyards to decimate the unwanted insects.
The result is vineyards farmed in harmony with nature. A minimum-intervention approach in maintaining soil health and unhindered purity allows the vines to maintain healthy profiles allowing for the delivering of superior quality grapes from which our wines are made.\Organic farming also brings life to the environment, therefore Org de Rac's vineyards teem with non-invasive creatures such as ladybirds and earth-worms, while the farmland is full of birds and mammals flourishing on a truly living wine farm.
Org de Rac's vineyards are grown on some of the oldest viticulture soils in the world the results of tremendous tectonic shifts some 800m years ago. They comprise granite and slate, rich in iron and ideal for the growing of wine grapes. The Mediterranean climate ensures cold winters with an annual average rainfall of 300mm, while summers are warm and sunny. Grape varieties are planted in pockets of terroir proven to be suited in allowing each specific cultivar to express its unique and individual flavour profiles. Vineyards are south-facing in east-west rows.
Grape varieites (red): Merlot, Shiraz, Cabernet Sauvignon, Pinot Noir, Grenache Noir and Tempranillo. White: Chardonnay, Chenin Blanc, Roussanne and Verdelho.
About 96% of our vineyards are trellised on wires using the split cordon method meaning the vine is split into two arms horizontally of the length of 500 millimetres each. These are wrapped on a wire giving about 6 shoots per arm and with 2 bunches per shoot producing about 5 to 8kg of grapes per vine.  Our planting density various to about 2 700 vines as per hectare and with a row width of about of 2,5 meters between the rows which does sounds quite wide. But in the bigger picture the space creates good aeration, the wind circulating through the vineyard and all that moving air preventing various potential diseases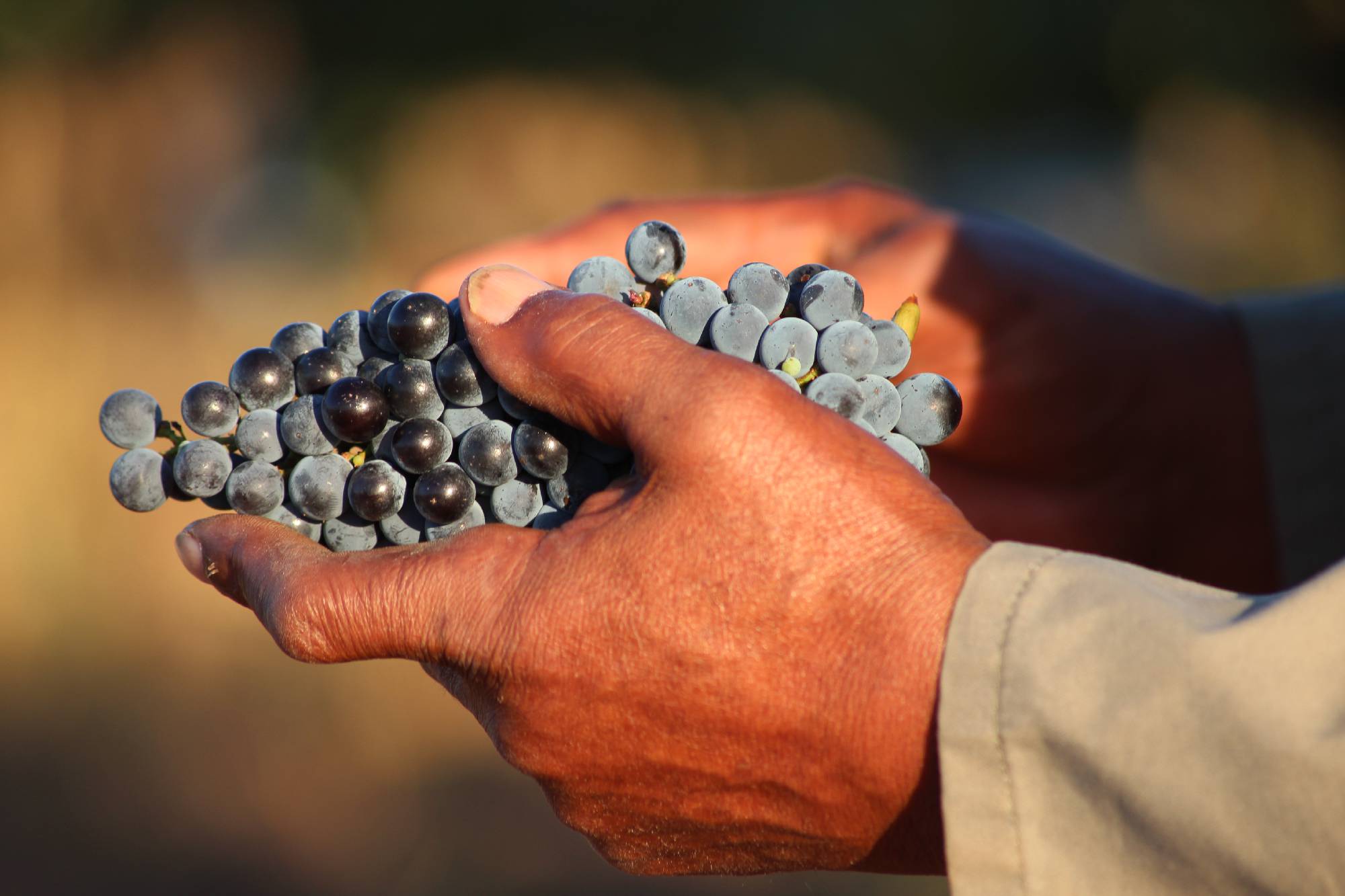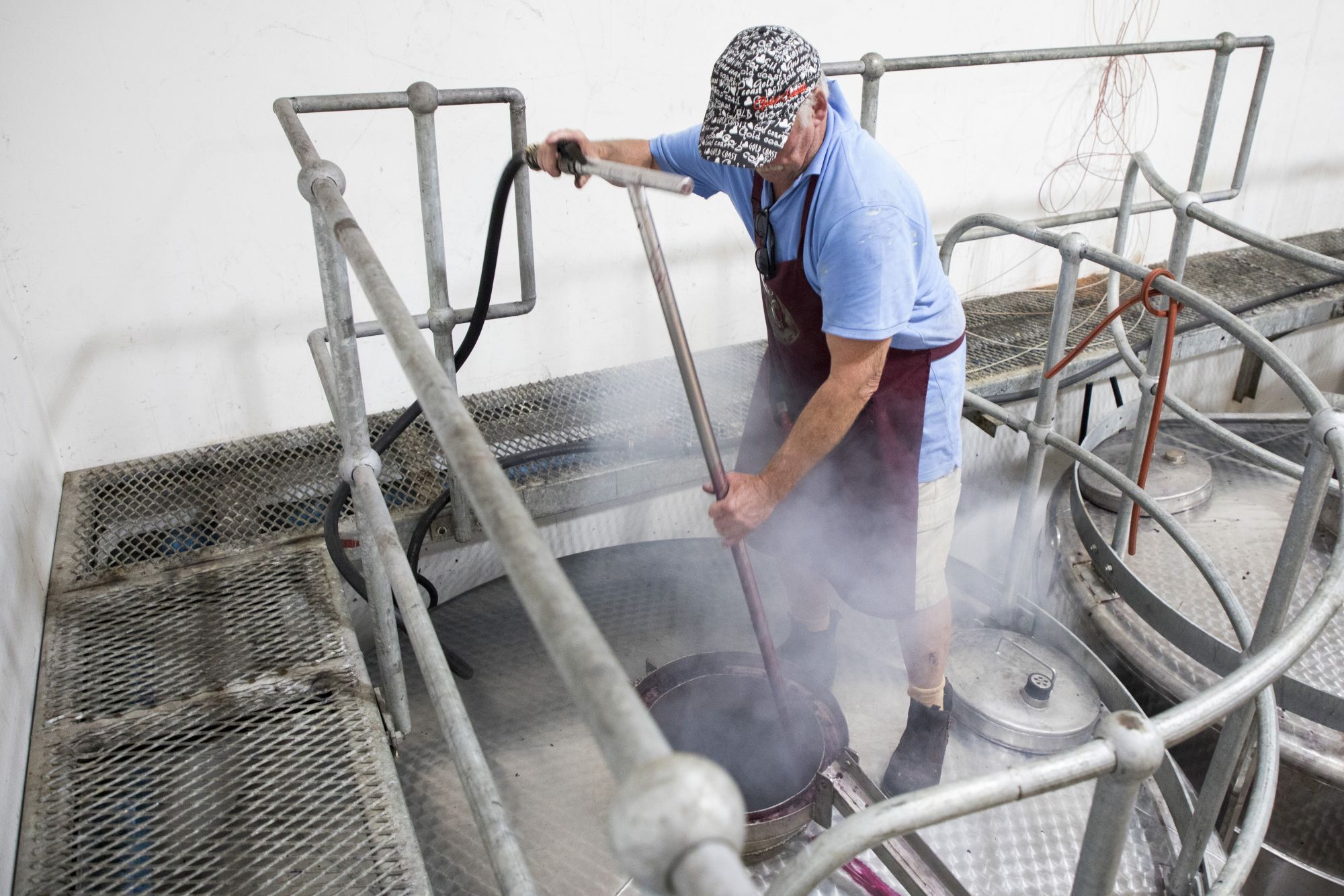 Using organically farmed grapes means that in the winery Org de Rac is committed to minimum-intervention winemaking. Sorting tables select only the best ripe berries for crushing and fermentation. The use of sulphur, an agent found naturally in the vineyards and the wine-making process, is kept to the minimum. Org de Rac is also in the process of eliminating sulphur additions, instead using a revolutionary honey-bush plant product that acts as a natural preservative. This allow purity and variety expression in our wines.
Pump-overs are done as little as possible to keep the wine calm, intact and balanced. Wines that undergo wood-maturation are allowed to rest in specially selected barrels of American or French oak, each vessel chosen by the cellarmaster to bring the best features of each variety or blend to the fore.